Home
News, and the latest updates.
Archives
Stories from the past...
Submit News
Got a item of interest? Here's the place to go.
Feedback
Your opinion always counts on how we can make GameSurge even better.
Mailbag
Comments on our features, by you, the viewers.

Hardware
Tweaks, reviews and a handy driver index highlight our newest section
Reviews
Looking to buy one of the hottest games? We have it covered.
Previews
Get a advanced look at the games of tomorrow.
Interviews
Find out more about the people behind your favorite game.
Strategy
Need Help? We have a very large selection of walkthroughs now up.
Gallery
A special section featuring the best in artwork and images.

Editorials
The written word, by staff and viewers.
Game Guy
A bi-monthly column contributed by Mark H Walker, an independant writer in the Gaming community.
Gallery
Pictures from around the web.
Hosting
Our current hosting plans and features.
Site Information
Who we are, what we do, our policies and job positions.


Strategy Index Guide
The resource for the best articles for the best games. Now with support over 55 games
Strategy Menu
N64

PlayStation
The Sony PlayStation, and beyond...
Nintendo 64
Currently Down.
Dreamcast
The Dreamcast resource, and more. Home of the DC Technical pages.
The GameGuy: The "Miniatures" Edition
By Mark H. Walker (mark@markhwalker.com)
Turn off your computer. That's right, you heard me. Turn it off and come over here. No, I'm not going to suggest something radical like going outside or spending more time with your family. Nah, none of that; I'm suggesting you turn off your computer and get a little old school, play something that you might not have played in awhile, play something that is as old as gaming, but with three new releases is as hot as Eliza Dushku. I'm suggesting you throw a game of miniatures on the table.
Gaming is all about immersion --getting away from the tedium of our daily lives, and nothing provides this immersion better than beautifully painted miniatures and a well-landscaped battlefield. Perhaps one of the simplest ways to get into miniatures is with any of the pre-painted games on the shelves. Two of the best are Heroscape and Star Wars Miniatures.
Heroscape (www.heroscape.com), is amazingly simple but also intriguingly complex --warriors from all eras have been called to do battle in the mythical land of Valhalla. One scenario might pit World War II-era paratroopers against a band of samurai, the next a fight between giant Mech-like creatures and Matrix-style agents in black. The incredible thing is that the combatants are finely balanced, and each group of miniatures had its own strengths and weakness that allow it to hold its own against the others, each rolling a number of attack dice delineated on its card against a defender's defense die. Blocks are subtracted from hits and the results are the wounds inflicted. The battles are intensely exciting affairs, further enhanced by the beautiful pre-painted miniatures and terrain. Yeah, I said terrain. Heroscape comes complete with not only 30 painted figures, but also terrain hexes that can be built into any landscape your mind conceives. What's way cool is that the hexes will work with your other 28mm miniatures to boot.
Star Wars Miniatures (SWM), which is published by Wizards of the Coast (www.wizards.com), doesn't come with terrain that can be built, but it does ship with some handsomely painted miniatures. A collectors' game through and through, SWM is sold in starter and booster packs. The starter packs, which are available in the original Clone Strike and new Rebel Storm flavor, ship with ten miniatures, a colorful map, and everything that you need to start playing. Later, you can grow your collection with booster packs. The game is based on the venerable D20 system, which means it's fast paced yet believable. If you buy a starter set make sure you also pick up a copy of JD Wiker's Ultimate Missions: Rebel Storm –a well-designed set of missions for your miniatures to fight through. Be forewarned, however, you'll probably need to buy a few more Stormtroopers before you can play all those missions.
Speaking of well-designed missions, how about Games Workshop's latest offering, Battle for Macragge( www.macragge.com)? Warhammer 40K has long been considered a tough game to master, and an even more expensive one to own, but with Battle for Macragge the Workshop is trying to change all that. The game is a complete starter set for Warhammer 40K. And when I say complete, I mean complete. There are Space Marines (the good guys), Tyranids (the bad guys..err… I mean bugs), terrain, rules, painting instructions, templates, dice, and a six-mission campaign book. Nah, nothing's painted, but painting these beautiful plastic miniatures is half the fun. The game is the most complex of the three, but also the most rewarding. And with the huge following Games Workshop games have, you'll never lack for opponents… or fun.
And fun is what it is all about. I love computer and video gaming, but ever so often I need to put them down, break out a cold beverage and sit across the table from a real person, and play with real miniatures. It's real cool.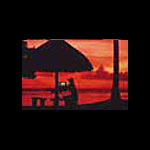 © Mark H. Walker, LLC 2001
Mark H. Mark H. Walker is a veteran interactive entertainment journalist who has written over 40 books and designs games including his soon to be released Lock 'n Load


An affordable, ultra-portable headphone set.

more