Home
News, and the latest updates.
Archives
Stories from the past...
Submit News
Got a item of interest? Here's the place to go.
Feedback
Your opinion always counts on how we can make GameSurge even better.
Mailbag
Comments on our features, by you, the viewers.

Hardware
Tweaks, reviews and a handy driver index highlight our newest section
Reviews
Looking to buy one of the hottest games? We have it covered.
Previews
Get a advanced look at the games of tomorrow.
Interviews
Find out more about the people behind your favorite game.
Strategy
Need Help? We have a very large selection of walkthroughs now up.
Gallery
A special section featuring the best in artwork and images.

Editorials
The written word, by staff and viewers.
Game Guy
A bi-monthly column contributed by Mark H Walker, an independant writer in the Gaming community.
Gallery
Pictures from around the web.
Hosting
Our current hosting plans and features.
Site Information
Who we are, what we do, our policies and job positions.


Strategy Index Guide
The resource for the best articles for the best games. Now with support over 55 games
Strategy Menu
N64

PlayStation
The Sony PlayStation, and beyond...
Nintendo 64
Currently Down.
Dreamcast
The Dreamcast resource, and more. Home of the DC Technical pages.

Supreme Commander: Forged Alliance
Gameplay and Analysis:
While Forged Alliance does include a tutorial segment, the game is generally designed to follow straight in the footsteps of the prequel. There are no initial ease-in build/scout missions to start with – the game will throw newbies and professionals alike straight into the deep end with a full screen, full scale assault with around 80% of buildings and units unlocked. While veterans of the original won't blink an eyelid at this, beginners to the Supreme Commander universe may find the learning curve somewhat overwhelming.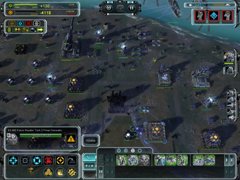 Aside from the steep initial learning curve, the overall gameplay is fluid and not difficult to manage once you get the hang of it. Each side has a certain degree of overlapping with some of the units and structures, but all feature different strengths and weaknesses in areas such as defence, raw power, stealth, and hit and run capabilities.
The economy is run by energy (generated from power plants), and mass, which has to be fabricated using energy or extracted from deposits on the ground. The game encourages expansion by placing these deposits all over the maps. The supply of these is unlimited, and constrained only by the number of units generated per second.
The only issue I had with unit control and AI was with the aircraft – without having any airfield or docking areas, aircraft tend to plant themselves on the ground after construction and have a tendency to fly off to engage nearby enemy forces, making tracking and controlling them a bit difficult at times.
The graphics of Forged Alliance are a step up from the original and provides plenty of pleasing eye candy. Expect full scale carnage involving dozens of units at any one time and plenty of light shows including laser, artillery and missile fire. Unfortunately, from a practical perspective most of the game will most likely be played out zoomed to a strategic view order to manage the gameplay – meaning missing out on a lot of the intricate details and textures.
Although the minimum specifications are for a 1.8 GHz processor with 512MB of RAM, I would be inclined to recommend following the "recommended specifications" in order to realistically be able to play with a decent framerate and reasonable quality graphics. The screen resolution and details can be modified if necessary to provide some scalability with PC performance.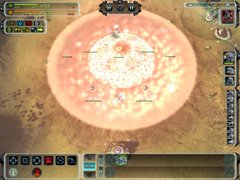 The music tracks do a good job of complimenting the mood and theme of the games and the sound effects are do their job, however playing while zoomed out moderately can end up with a dog's breakfast of sound effects due to dozens of units fighting on the screen.
Multiplayer gameplay is via LAN or Gas Powered Games' online service, GPGnet. The service will automatically download and install necessary updates, and features the standard chat rooms and miscellaneous game options.
Custom games can be created that disallow certain options such as nukes or experimental (aka super) units – great for those old fashioned battles without having to fight in races for super weapons or super unit battles that annihilate everything in sight.
Overall, Supreme Commander was a welcome addition to the RTS genre, and found itself a welcome niche in the market. Forged Alliance has built on this like any good sequel – Better graphics, the introduction of new units, and plenty of feedback driven gameplay improvements. The single player campaign will provide well over 30 hours of gameplay, and countless hours of multiplayer gaming await.
Overall score: 80%
An affordable, ultra-portable headphone set.

more