Featured Editorialist - Ramon Ray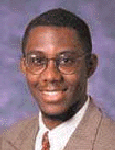 Ramon Ray, of smallbiztechnology.com. a resource for small businesses to learn how to strategically use technology in their small businesses. News, articles, analysis - it's all there at smallbiztechnology.com.

For over 10 years, both offline and online, Ramon has been helping hundreds of small businesses use technology to save time, save money or be more efficient

Online Customer Service and Interaction ...it can make or break your online business
"For small businesses on Main Street, Park Avenue, 42nd Street, etc (real businesses) - it's VERY EASY to have great customer service and interaction. You really can't help it! As long as you've got a ready smile, firm hand shake and can resolve customer problems satisfactorily - you'll probably do just fine. However, online - you are dealing with nameless and faceless customers - bits and bytes. How in the world can your Web site be a bastion of customer service and interaction?"



Need More Information?
NewsEye is the total source for news, headlines, and featured articles on Business. Featuring content and reporting from over 1500 of the best websites available, and updated 24 hours a day, NewsEye will always keep you informed.